I attended the Social Media Week New York "Big Data Goes Social" Panel discussion hosted by Bloomberg on Tuesday, where our very own Francesco D'Orazio, our Chief Innovation Officer and Head of Social Intelligence, gave his thoughts on a number of key questions around the value of big data.
He was accompanied by other distinguished panelists namely Paul Sweeney, Head of Research and Financial Data Analytics at Bloomberg; Michael Nelson, Research and Analytics for Bloomberg Government; Lisa Joy Rosner, CMO at Netbase; and Mark Cooper, Co-Founder of Offer Pop.
There were 4 key themes I took away from the discussion:
Image by Sherrie Rohde
Trusting Big Data
The first centred around the area of trust. People are still not sure if they can trust social data. Lisa Joy Rosner told an interesting story regarding a yogurt client. Retail data showed the company that the top selling flavour was vanilla, but all the buzz and conversation from social data was telling the business a different story. Pineapple flavour was what customers were getting really excited about yet this was not translating into sales. The reason they established was that in most stores there were not enough pineapple flavoured yogurts stocked so customers would default to vanilla because their favourite flavour was simply unavailable.
Big Data Talent
All the panelists agreed that the data or the technology behind it, each on its own, is not enough to extract real value and meaning to drive business actions. Smart people who can connect the dots and help understand the "why" as well as provide contextual and behavioural insights are vital.
That's why D'Orazio argued that looking at Big Data from a research POV is important. Having researchers who are technologists and can bring a mix of quantitative and qualitative skills to the table – a combination of the social sciences, anthropology and statistics – is what is needed.
That said finding these types of people is not easy. Nelson pointed out that a recent McKinsey report stated that in the next 4 years there are going to be 140,000 to 190,00 unfilled data scientist jobs. An additional challenge is that there are 1.5 million managers who needed to be re-trained in the area of Big Data so people are able to understand what's possible and what's not. Without a basic understanding of statistics, Nelson pointed out that businesses will draw the wrong conclusions from the data and make bad decisions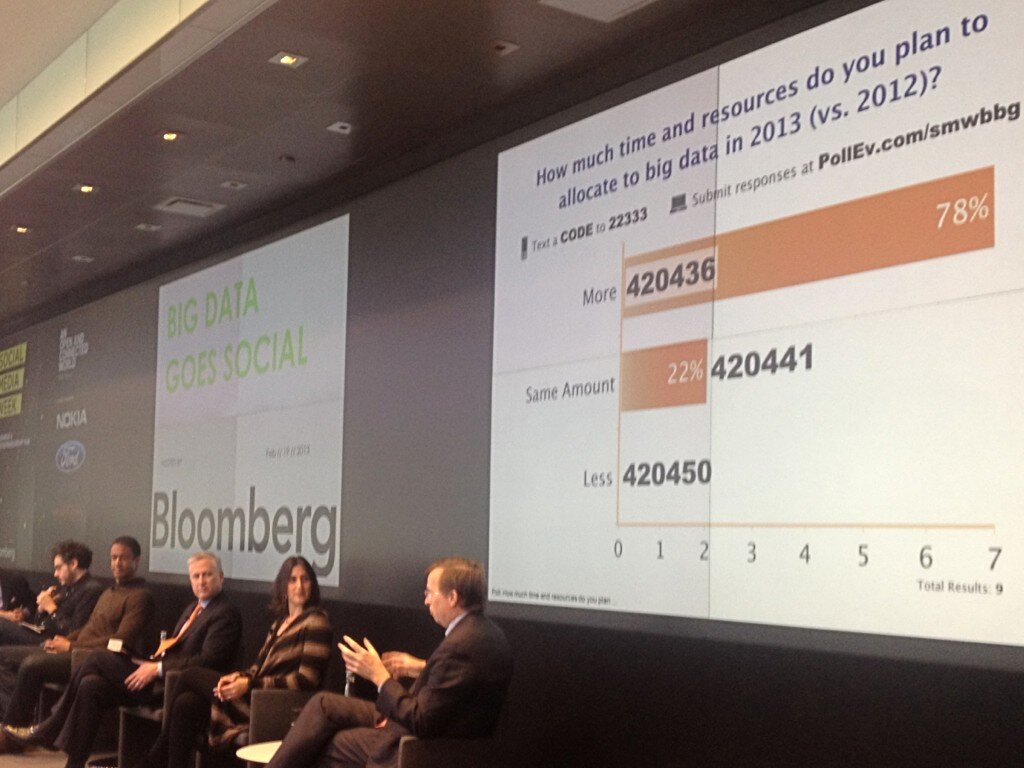 Image by Twitter user @matylda
Making Big Data insights Actionable
Aside from people there were other key points to making sure data-driven insights were actionable. Michael Nelson argued that there needs to be a culture of transparency as well as a culture of "combat" when it comes to big data. Make all the data transparent and available to the whole company and encourage debate and discussion around it.
This tied in with Francesco D'Orazio's point on decision making. If you really want to derive value and meaning from big data then you need to re-engineer how your company makes decisions based on what the data is telling you. Dashboards delivering live feeds to executives can quickly become redundant if the process of responding quickly to what the data means has not been thought through.
The benefit of researchers who get technology (rather than technology companies trying to do research) is highlighted in the way big data is collected. D'Orazio pointed out that Face's Pulsar platform doesn't just track data by keywords now but also by reach, audience and content. Wrapping this with a solid research framework is key to delivering robust and actionable insight.
Privacy and Data Ownership
Unsurprisingly privacy was a hot topic of the debate. Lisa shared some interesting facts from a recent study she had done with JD Power that showed that 32% of consumers had no idea that they were being listened to. The conundrum of the privacy issue around big data was highlighted by the statistic: 48% don't want to be listened to, but then 58% said they did want to be listened to if they were complaining or needed help.
There was also concern that European law may limit the ability of companies to analyze data in order to personalize their offerings. Transparency was key to solving the privacy debate said Nelson – if I tell you what data I'm collecting and the benefit you get in return for collecting this data about you then you will give me more data.
However D'Orazio felt that this was rarely true – the benefit of big data is with the company not the customer. In this sense he said that a much bigger looming concern was around data ownership. Customers at some point will realise that it is in their interests to control their own data (personal data lockers) and this could have major ramifications on current business models.
A final thought
One final thought that we were left to mull over is preparing ourselves to manage the trend of social data going visual when most technology listening platforms are built around text. In 2013 we are going to need to crack visual mining. Now there's a challenge!